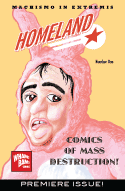 Everyone's a hero in Homeland! Occupy your mind with comics on the political satirical front, including Barcourt's Mother, Comfort Creatures and Tea-Party Tom!
Meet some of the characters you'll encounter:
In "Barcourt's Mother":
Barcourt's Mother -- A Puritan lady born in 1632, now facing the rigors of life in this modern age of sin and corruption. She drives a curved dash Olds and isn't afraid to spoil the rod to spare the child!
Barcourt -- Her wily son, fun loving and naive, haplessly wanders into situations that threaten to bring shame and abomination on his mother and the church.
Dwayne the Hippie -- The ne'er-do-well rabble rouser who regularly leads Barcourt astray.

Order print issue: 20 pages
al2fb_facebook_link_id: 94483919113_10150946904464114
al2fb_facebook_link_time: 2012-06-09T19:32:21+00:00
al2fb_facebook_link_picture: featured=http://www.whambamcomics.com/blog/wp-content/uploads/2012/05/125x191_homeland_1_cover.png
al2fb_facebook_exclude: 1

Updating...