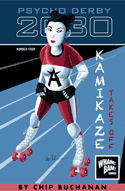 When Kamikaze suits up for her first bout with the Flying Aces, her debut doesn't go entirely as expected — and neither does the after-party. PLUS: Get a first glimpse of Maglev Madness, the new technology that raises derby to new heights!

12 pages, black and white
al2fb_facebook_exclude: 1
al2fb_facebook_nointegrate: 1

Updating...